Card of the Kharkov zoo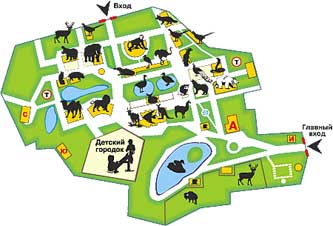 The Kharkov zoo - the state zoo in Kharkov. The oldest in Ukraine, the third on age in Russian empire, the twentieth in the world. Has been opened in 1896, for visitors in 1903. Is in area Nagornom, in a garden of Shevchenko.
---
History
Before revolution
It is considered to be date of the basis of the Kharkov zoo 1896 when on the area of two hectares rented at the University garden, the exhibition of pets and birds has been organised.
Later the exposition replenished with wild animals who delivered to Kharkov inhabitants of neighbouring villages. Then in exhibition territory it has been created "shelkovodnja" and the apiary of a beekeeping society has settled down.
In 1906 as informed «the Kharkov provincial sheets», the construction and the equipment of the main case of the aquarium arranged in the University garden (in the territory occupied with hen house) has ended.
In 1911 South Russian Society of acclimatisation has decided suit a zoo similar to the Moscow in Kharkov. On Society means winter premises and summer open-air cages have been constructed, wild animals and the birds which part has arrived from reserve were bought Askanija-is new.
Before revolution the zoo contained on money of the Society of acclimatisation and the Kharkov municipal duma. But allocated money catastrophically did not suffice.
Members of the Society of acclimatisation have addressed through the newspaper "South country" to the public with the request to offer to a zoo at least on five roubles from the person, promising to declare the benefactor the life member of the Society.
At the Soviet power
During civil war the zoo has been ruined.
In 1921 a zoo have started to restore - constructions and open-air cages were under repair, decorative, melliferous, medicinal, technical plants landed, the exposition of animals was restored.
In May, 1922 capital Kharkov zoo - already the-park, was again open for visitors. The entrance ticket cost hundred thousand roubles at the rate of spring of 1922. All obtained money went on replenishment and expansion of a collection and a zoo accomplishment.
By 1930 years the zoo territory made 22 hectares, as well as now.
In 1928 from Germany to Kharkov there has arrived the whole echelon with animals among whom there was a lion, a leopard, the llama, a kangaroo, mongooses, monkeys, parrots, beloshchyokie kazarki and many other things.
From Transcaucasia delivered swans, pelicans and about hundred kinds of a natatorial bird.
In a ravine have constructed a pond the area of 2400 square metres for geese, swans, a flamingo and other natatorial living creatures.
In 1930 in a zoo have constructed «mountain to an open-air cage» - the planted trees and shrubs site with artificial hills where in the conditions most approached to natural, there lived rounds, dzhejrany, muflony.
The elephant house, monkey house, hen house, shelters for hoofed animals have been constructed.
Before war in a zoo was over five thousand animals. C 1920 to 1942 permanent director of a zoo was N. P.Evald.
The Great Patriotic War
German armies have grasped Kharkov on October, 23-24rd, 1941.
Animals strongly suffered from bombardments, for hunger, and before the introduction of fascists into a city some open-air cages have been opened.
Directors of a zoo Nikolay Petrovicha Evalda have caused to the representative of management of reserves, zoos and zoos Sovnarkoma of Ukraine and have suggested to remain in the occupied Kharkov to try to keep animals. Evald has agreed, having asked that to a zoo have initially given some stock of forages.
Since December 1941 zoo monkeys lived in destroyed building gosproma. Three macaques-Rhesus factors ate something and two years did not come across on eyes to Germans almost, and unique from monkeys have gone through occupation. - [1]
In November-December, 1941 in the street Sumy at an entrance of a many-storeyed apartment house, holding a head between ladder flights, the zoo giraffe whom inhabitants, hungry, fed tried to be heated in not heated house than could. Subsequently the giraffe was shot by the German soldier.
For January, 1st, 1942 in a zoo there were llamas, hyenas, brown and polar bears, a dingo, porpoises, wild wild boars, nandu, emu, parrots, pheasants gold and Caucasian, deer, fallow deer, camels, a zebu, a pony, donkeys, canaries, rabbits and hens who planted on sale.
On May, 1st, 1942, with position improvement at the front for Germans, the zoo has been opened for visitors and used the big popularity at the population: the entrance ticket cost not much, on Sundays played an orchestra and even remained polar bears are live.
Part of the remained animals Germans in the middle of August, 1943, after the defeat near Belgorod, have shot, as on hunting. The part of animals was lost for hunger as them did not feed.
Besides fauna disappearance, Germans have caused a huge damage to zoo constructions.
At the moment of clearing, on August, 23rd, 1943, in a zoo has escaped: four bears, five monkeys and one wolf. Was lost more than five thousand individuals of animals.
Post-war restoration
After clearing of Kharkov in 1943 the zoo practically on an empty place was restored.
For the fifth day after clearing, on August, 28th 1943 the order № 1 is issued: «On the basis of the decision of executive committee of the Kharkov city council of deputies of workers a zoo to consider opened since August, 29th, 1943.»
After restoration of capital structures and open-air cages has been constructed two-storeyed about an aquarium on which ground floor have arranged antilopnik.
Winter capital premises for the big animals have been constructed: lions, hippopotamuses, elephants.
In a zoo and park of Shevchenko have anew planted ten thousand trees and bushes, have constructed four decorative pools for a waterfowl and summer pool for «gold small fishes».
The End of the Soviet period
In Soviet Union the state in 1980th years annually allocated from the budget of hundred thousand roubles for the maintenance of a zoo and purchase of new animals, and in the late eighties a zoo has taken a leading place in USSR.
In 1986 it was supposed to expand the Kharkov zoo strongly. In long-term plans of development of Kharkov and the general plan of a city to a zoo the big territories on the area - 120 hectares - around the Forest park, between settlement Zhukovsky and district road, to the right of the Belgorod highway were allocated. Cost postojki a new zoo was estimated in 70 million Soviet roubles.
But there have come times of "reforms" in which result the quantity of visitors (in their safe 1990 in the early nineties has many times over decreased was one and a half million from which half of children), then there were problems with financing and a food of animals, and their number has a little decreased.
About expansion of a zoo speech did not go any more.
---
Scientific and nature protection activity
In a zoo representatives of wild fauna of all continents of the Earth are saved up and studied. Besides, the Kharkov zoo is cultural-educational establishment. In it excursions for children and adults, lecture are led, consultations concerning fauna and nature protection in general are given. Lectures and displays of animals in kindergartens are conducted.
Reserve
In 1983 the zoo is declared by reserve of republican value (USSR).
In 1992 according to the Law of Ukraine the zoo has received the status of reserved territory of nation-wide value and was a part of prirodno-reserved fund of Ukraine.
Animals from the Red book
Nineteen animals from the Red book live in the Kharkov zoo. It missisipsky an alligator, the Cuban crocodile, tigers Indian and sumatrinsky, a jaguar, a black panther, a horse Przhevalsky, a chimpanzee, dark tigrovyj a python, the Asian elephant and others.
This animal in a zoo have created whenever possible especially comfortable conditions of residing and have picked up special food allowances. The part from these rare species continues to breed in bondage.
The Open-air cage of kids and a contact platform In the spring most of all spectators gathers at an open open-air cage where some time together there live the smallest cubs, but different kinds. Standing at a barrier, children and adults can observe hours how bear cubs struggle with each other, puppies of a dog of a dingo chase young lions, kids hide for a fencing from the dangerous neighbours, butt small kabanchik and the big water rat, and all potter, run, growl and jump.
On a contact platform of harmless animals it is possible to iron and feed with a special forage which there and then is on sale.
---
Quantity of animals
1927: 1046 of animal 234 kinds.
1940, before war: over five thousand animals.
1942, occupation beginning: 115 kinds of animals and birds and 23 kinds of fishes.
1943, on August, 23rd, at the moment of clearing: less than 150 animals, from them more or less large ten (four bears, five monkeys and one wolf). It is destroyed five thousand animals.
1986: 7350 of animal 397 kinds.
2005: 7133 of animal 367 kinds.
2006: 7764 of the individual of 388 kinds, from them 139 kinds of fishes, 4 kinds of amphibians, 127 kinds of birds, 76 kinds of mammals.

Quantity of visitors of a zoo
Adult visitors without privileges are considered. Children till five (earlier-seven) years in a zoo pass free of charge.
1927: 310 thousand persons.
1942 (occupation): from May, 1st till July, 14th - 53 thousand persons (the occupational newspaper «Our Ukraine» from 15.07.1942); thus, for a year of obviously more hundred thousand persons.
1986: one million 300 thousand persons, from them about 600 thousand children.
1990: one million four hundred fifty thousand persons, from them half of children.
2003: 323 thousand persons.
2004: exactly 400 thousand persons.
2005: 369 thousand persons.

The Entrance fee in a zoo
1906 - five imperial copecks of the sample of 1897.
May, 1922 - 100 thousand roubles sovznakami the sample of 1919.
Summer 1942, occupation - 1-3 Soviet roubles of 1937 (0.3 rejhsmarki). The ticket for football in the occupied Kharkov cost in 1942 three-five roubles.
1970 - 1980 - twenty Soviet copecks of the sample of 1961 (27 American cents) the adults, ten copecks children.
1994 - forty thousand Ukrainian coupons of the sample of 1992 (fifty American cents).
2007 - ten griven the sample of 1996 (two dollars) the adults, five griven (one dollar) children.

Directors of a zoo
Evald, Nikolay Petrovich, the former imperial and hetman (1918) officer from Ahtyrki - 1924-1942.
Slops, Andrey Timofeevich, komissovannyj on wound the military seaman - with 1943 on?. Year.
SHabaltas, N. D - 1960 - 1970th years.

Some facts
The Kharkov zoo - the third on time of opening a zoo of Russian empire and the twentieth in the world.
The first elephant in a zoo has appeared in 1925. It was the first elephant in zoos of the Soviet Ukraine.
Following the results of 1942 the zoo has made for occupational Kharkov town council profit:
From sale of entrance tickets - 240 thousand roubles,
From realisation of hens - 20 thousand roubles,
The pet-shop income - 100 thousand roubles,
For rent of buffets and booths - 40 thousand roubles.
By the commission (1945) it is established, that fascists have destroyed following animals: lions - 9, raccoons of Ussuriisk (raccoon dogs) - 6, a bear white - 1, bears brown - 2, elephants of adults - 2, a leopard - 1, a tiger Ussuriisk - 1, monkeys - 26, pigs house - 12, sables - 2, crocodiles - 5, a zebra - 1, camels - 4, an antelope - 1, the llama - 1, deer - 17, fallow deer spotty - 19, buffalo s - 3, donkeys - 2, eagles - 2, a pony - 5, horses - 17, ducks wild - 280, geese house - 287. In total cost of the destroyed buildings has made 202 thousand rbl.; lost animal - 233060 rbl.; aquarian fishes - 5880 rbl.
On July, 20th, 2002 from a zoo have stolen a young five-monthly lioness Veta. Thieves have sawn the lock in a cage, have let out it on territory and long it caught. Robbers, possibly, intended to steal a cub of a leopard, but furious mother has not admitted them to the kid.
Now in a zoo there live two elephants: aaziatskaja elephant cow Tendi, born in the Odessa zoo on July, 19th 1998, And Asian elephant Aun nejn Pour, born natural by November, 9th 1997 in the Emmensky zoo, Holland.
---