In "Epicentre To " the goods from the checked up Ukrainian and foreign manufacturers are presented.
as the assortment is constantly updated, any novelties which only appear in the market of building materials, it is possible to find here.


the Hypermarket of building materials Epicentre-to in Kharkov to the address Jury Gagarin's prospectus 352
Special services . For the maximum convenience of buyers here works formatnaja-raskrojnye a site (all saw-timbers in "Epicentre " can cut on those sizes which are necessary for you) and tuning department. At us the spectrum of the goods and services which we offer our buyers constantly extends. In salon of kitchens it is presented more than forty kinds of kitchens from the Polish and Ukrainian manufacturers. Recently has increased also the department area "the Garden and a kitchen garden ". Now it makes a minimum of 500 square metres, therefore a lot of the garden furniture, arbours, ornamental plants here is presented. In a word, we work over that our clients received services of the European level, and to do purchases at us it was pleasant and convenient.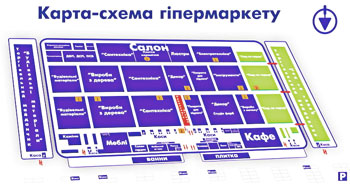 the Card-scheme of a hypermarket of building materials Epicentre-to in Kharkov to the address Jury Gagarin's prospectus 352
Becoming more close to consumers, company EpitsentrK opens hypermarkets in regions of Ukraine. As of June, 2008 openly sixteen shops, four of which in Kiev, the others in the regional centres (Lvov, Poltava, Odessa, Chernovtsy, Kharkov, Ivano-Frankovsk, Dnepropetrovsk, Lugansk, Khmelnitskiy, Nikolaev, Ternopol) and one in the regional centre - the city of Krivoi Rog.
Hypermarkets of building materials in other cities of Ukraine are At the moment open:
Kiev (on Bratislava), Kiev (on Ring), Kiev (on Grigorenka), Kiev (on Borshchagovke), Kiev (on Viscose), Poltava, Lvov, Odessa (on Ovidiopolsky), Chernigov, Dnepropetrovsk, Ivano-Frankovsk, Lugansk, Nikolaev, Khmelnitskiy, Krivoi Rog, Ternopol, Cherkassy, Odessa - Tairova, Uzhgorod, Exactly, Donetsk-Makeyevka.
The Main office of the company:
Street Bratislava, 11, Kiev, Ukraine, 02139
Phones (multichannel):
+38(044) 561-27-50, +38(044) 561-27-51